Our first pilot journey in the Tethix Learning Archipelago has ended after five intense weeks. In week 5, all crews successfully anchored at the Harbour of Shared Reflection on the Island of Insights.
If you're new to this series, we invite you to start with the pre-launch and week 1 overview for additional context on our collaborative online learning experience in tech ethics and read the reports from week 2, week 3, and week 4 first.
Week 5 overview: reviewing solution feedback, journey reflection

The final week of our pilot journey was an opportunity to wrap up solution proposals and reflect on the overall experience and gained insights. Our last 3-hour live session took place on Tuesday, March 29.
We again guided this week's activities with a Mural template, with crews working independently in Zoom breakout rooms during the first and second parts of the session. In the first part, we also used the evaluations Mural template we introduced last week.

In the first part of the session, crews reviewed and discussed the feedback they received from other crews during last week's evaluations and decided whether they wanted to update any of the elements of the proposed solution. They also determined whether they wish to continue working on the proposed solution after the journey in any way, either as a crew or individually.
In the second part, crews engaged in a journey retrospective. To prepare the crews for this activity, we prepared a short journey recap with an overview of all the different ethical and collaborative challenges the crews faced in the five weeks we spent together.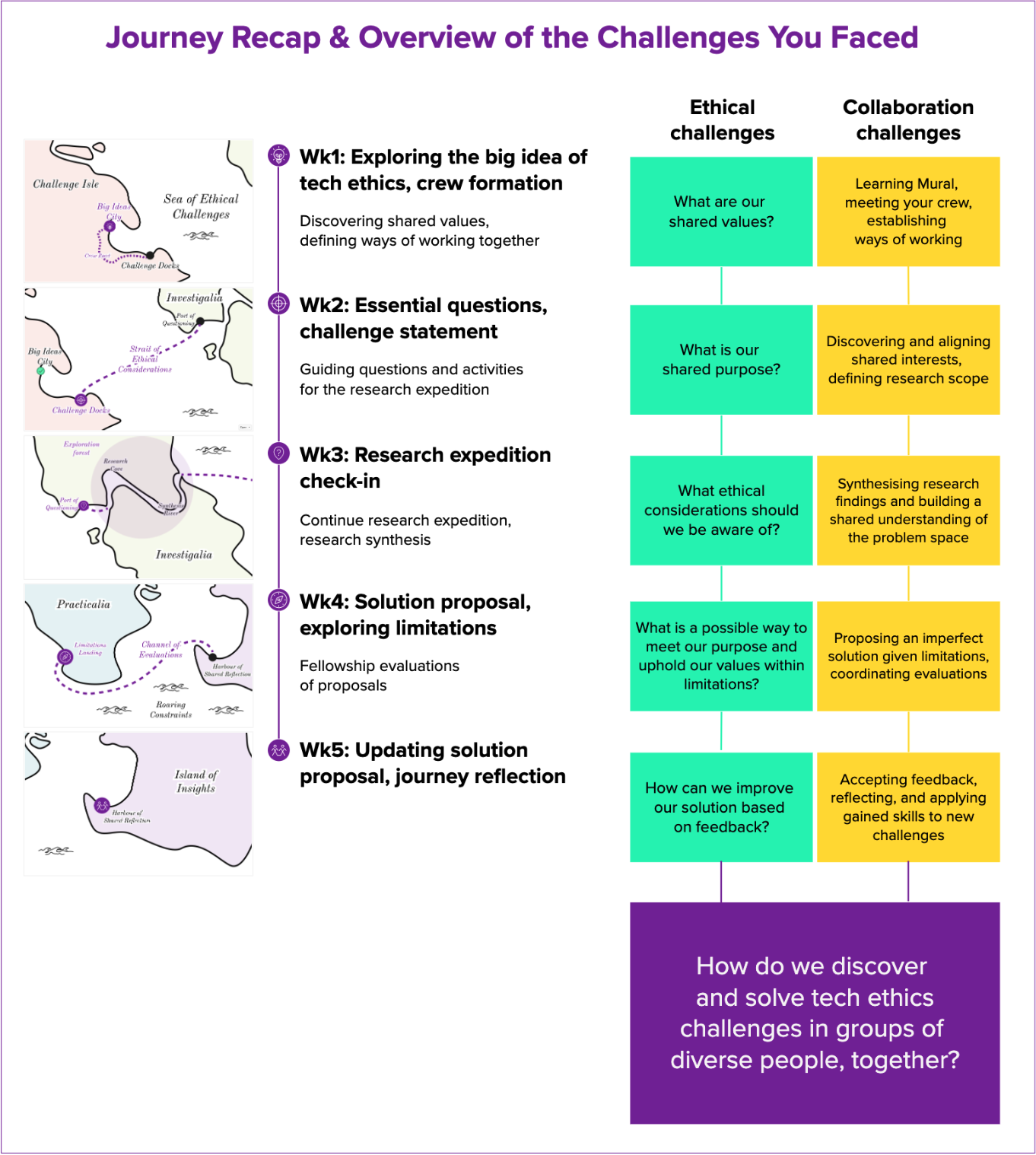 For the retrospective, we adapted the sailboat retrospective approach used in agile development and encouraged the crews to reflect on various elements of their journey:
what propelled them (wind),
what slowed them down (anchor),
what made them happy (sun),
and lessons learned (temple of reflection).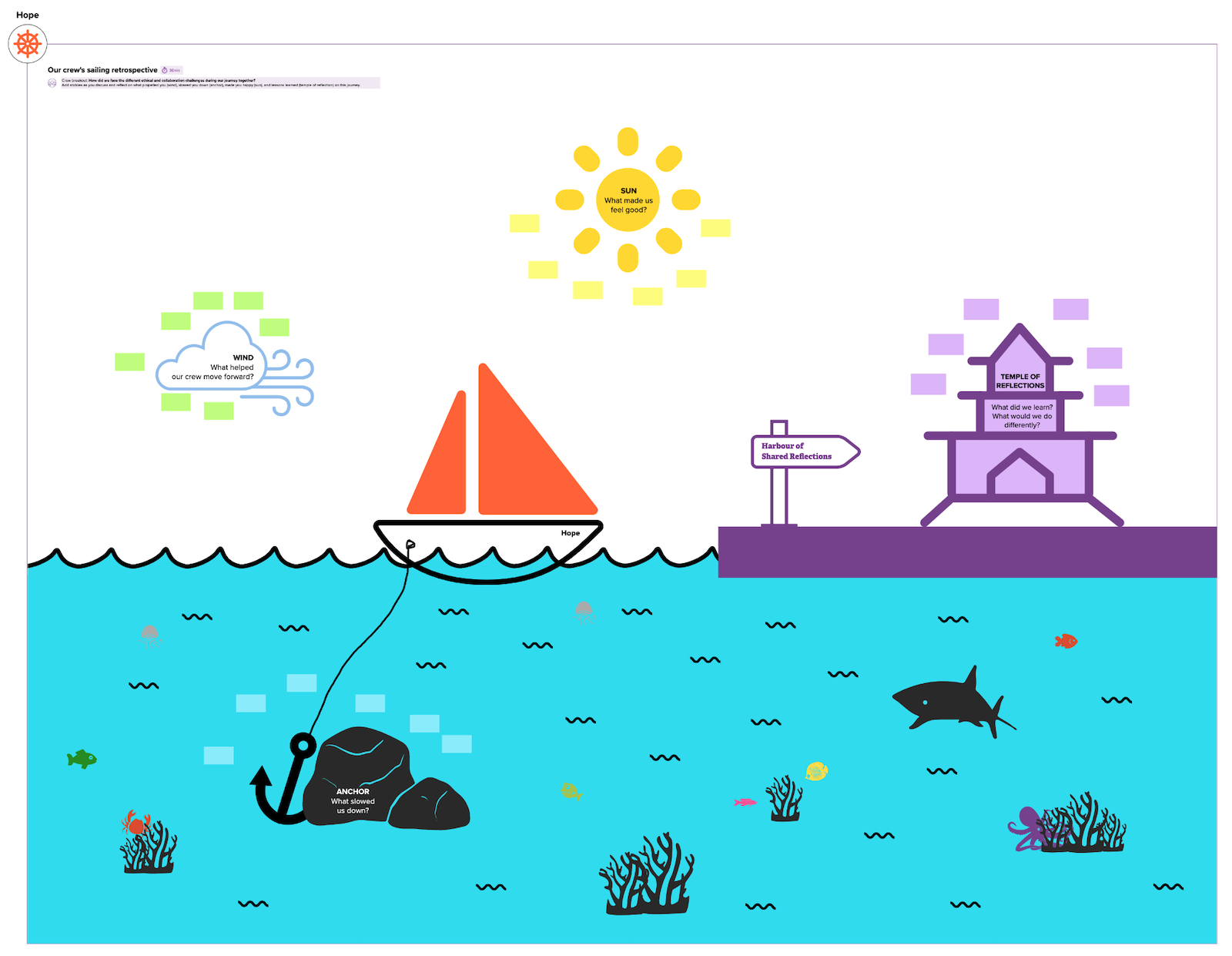 In the third and final part of the session, we took some time to reflect on the journey experience as a fellowship. This part was more informal, with no fixed timers, and focused on visual expression. We invited fellows to revisit their expectations from week 1 using emojis and explore the emotions experienced during each week of the journey with images and GIFs. This was a more playful way to end the session and a way for us to gather some qualitative data about the experience.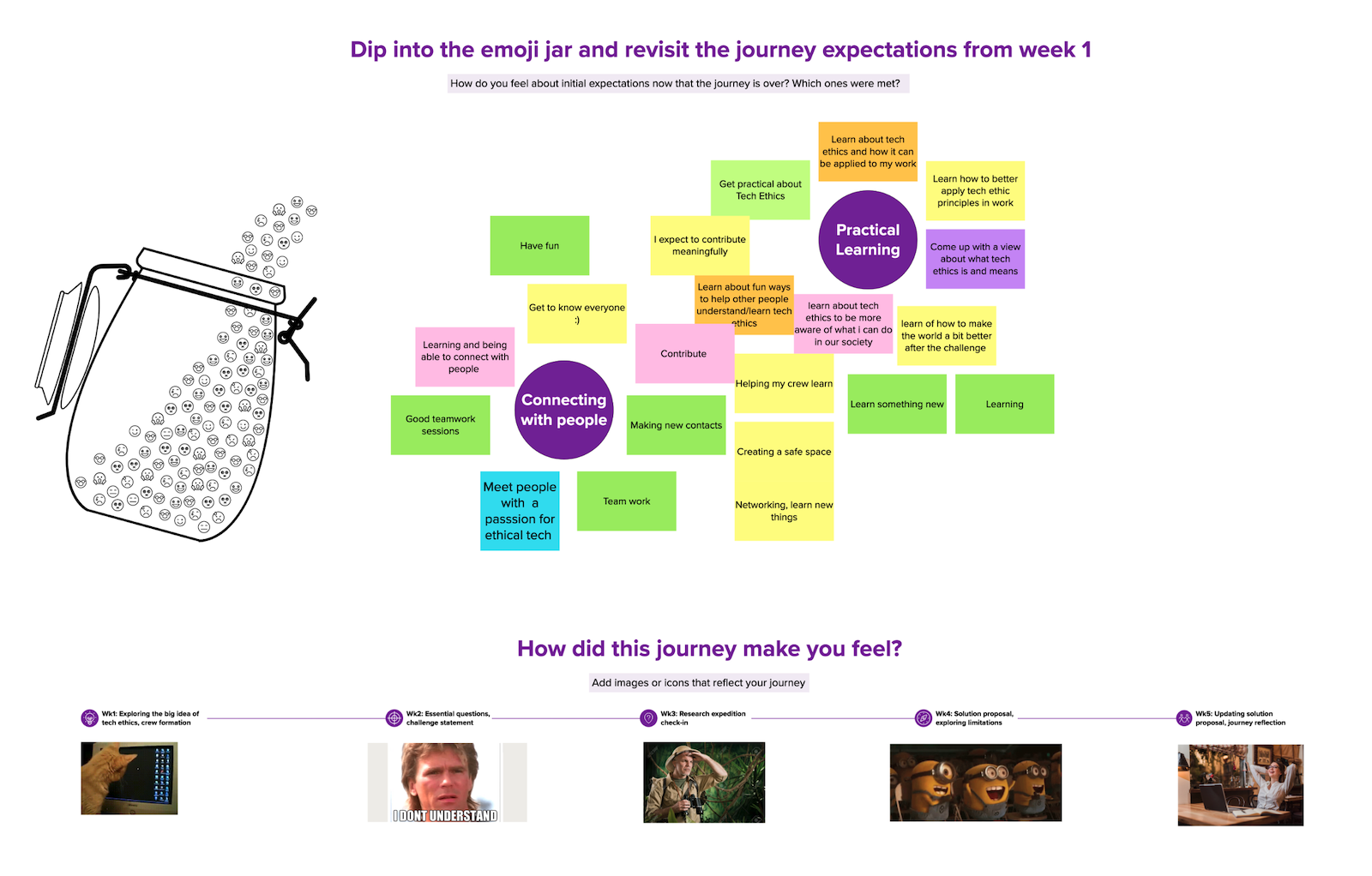 At the end of the session, we briefly talked about the next steps fellows can take after the journey. We invited everyone to fill out our post-program survey and informed fellows that they'd receive a .zip file of all Murals and their Crew Deck by the end of the week. We also invited fellows to save the date for our Pilot Fellowship Reunion event, which will take place in 4 weeks. This follow-up event will be another opportunity to check on the outcomes of the journey.
Week 5 preliminary observations: different crew dynamics still influence the experience
Similar to last week, our two groups had a slightly different experience in the live session, even though different timezones are the main difference between the groups.
Both High Tide crews had plenty of time to complete the activities, had good discussions when reviewing evaluations, and their reflections were honest and self-aware. Both High Tide crews started drawing on their sailboat retrospective canvas before the 30min timer was up. We were able to transition directly into the final part in a relaxed, playful atmosphere.
In contrast, both Low Tide crews used more time in the activities. They still had good discussions during evaluations, and one of the crews did really well on the retrospective. Still, the atmosphere wasn't as relaxed overall, which is likely a reflection of different crew dynamics in this group. A few fellows in the Low Tide group expressed a lack of a sense of completion related to the proposed solution, which they didn't manage to get during the first part of the session. We hope they can use this as motivation to continue their work, either within their crew or independently.
Given these observed differences between crews, we're curious to see how members of different crews rate their overall experience in the post-program survey.
Overall, we feel it was a good choice for week 5 to be less intense and offer crews more time and space for their final discussion and reflection. The final visual activities introduced some playfulness and helped us end the journey on a more positive note.
Initial observations about journey outcomes
Five weeks ago, we embarked on this pilot journey with 20 intrepid fellows, who formed four crews, evenly split between two groups in different timezones.
We are happy to report that 18 fellows reached the final destination and participated in more than half of the live sessions. Two participants (not in the same crew) dropped out in week 3 for personal reasons.
In this pilot, we didn't measure participation in additional crew activities – it was up to crews to self-organize – but all crews made it to the end of the journey.
Two out of the four crews expressed interest in continuing their journey:
One of the High Tide crews, which self-organized with additional crew meetings every week, and where all crew members are excited to continue developing their solution together. Among other things, they reported heartfelt discussions, serendipity in crew formation, dedicated participation, and a sense of accomplishment in their retrospective.
At least half of the members in one of the Low Tide crews seem interested in developing their solution further or at least presenting their findings. This crew expressed a sense of progress, feeling appreciated by the light keepers, and bravery in their retrospective.
Two of the crews decided cross-timezone coordination was a bit too challenging:
One of the High Tide crews, which found ways of working together during the journey – mostly on their own Slack – but decided that timezone differences and other life constraints make it a bit too difficult for them to continue developing their solution. They wrote about having fun, open-mindedness, members stepping up and helping each other when needed in their retrospective.
One of the Low Tide crews, which probably had the biggest challenge in coordinating different timezones – spanning Australia, Europe, and the Americas – and had difficulty arranging times to meet and complete crew activities. They are still excited about their challenge topic and are interested in individually exploring their unique challenge perspective in their own projects. They wrote about being able to combine diverse perspectives, enjoying the non-work talk, and being in an encouraging, positive, and supportive crew in their retrospective.
We'll have additional insights on outcomes after analyzing the post-program survey and checking in with the pilot fellowship after four weeks. The post-journey check-in will be especially important to see whether the participants got any benefits once the initial experience excitement subsides.
Week 4 preliminary observations: diverging crew dynamics
Overall, we consider the pilot a success. The live sessions mostly worked well; the one in week 2 was a bit too intense, but we were able to adapt session pacing and intensity in later weeks successfully. Despite some minor difficulties, we maintained participants' interest and helped all crews reach the final destination.
We confirmed a lot of our initial assumptions about what the pain points might be – especially around crew formation and crew dynamics – and got valuable insights into how different tools are used and perceived. It was especially valuable to test how our adaption of Challenge Based Learning works in an entirely online setting.
Now we'll be exploring how to adapt the experience based on feedback and testing whether a similar experience is something people would be willing to pay for. We offered this pilot to participants free of charge, which likely had some impact on their motivation and the time they were willing to invest in the experience.
We also need to define completion criteria more thoroughly, both for crews and individuals. In this pilot, it was more important for us to see how the crews sailed through different challenges rather than ensuring a certain standard of participation. We were mainly interested in testing the learning model, overall process and the tooling.
In terms of facilitation, Mat and I enjoyed working as a crew rather than splitting the live sessions between us. Having two facilitators – light keepers – made it easier to manage the tech side (e.g., breakout rooms, timers) and helped us create a more casual conversational atmosphere, hopefully avoiding the "one source of authority" pitfall. That said, future journeys will likely be timezone-specific. Trying to cover multiple timezones by hosting two 3-hour live sessions in less than 24 hours – Tuesday evening and early Wednesday morning for Mat, and early Tuesday morning and late Tuesday night for me – was an exhausting experience that we wouldn't recommend to other light keepers.
In terms of the tools we used, Zoom worked well for event registration and core video call functionality. The main pain point was not being able to peek into breakout rooms without interrupting the flow of discussion and the company's questionable privacy track record. We'll likely try using Butter next time, which offers a more casual atmosphere, the ability to observe breakout rooms, and seems to take data protection a bit more seriously as a European company.
Mural worked really well as our visual collaboration tool. Figuring out access permissions wasn't always a smooth experience, and some participants were a bit confused by the number of templates. We'll likely make Mural an even more prominent part of our upcoming journeys, add more links between Mural templates to show overall progress, and make it easier for participants to orient themselves.
The Tethix platform – with its threaded discussions and activity feed based on the BuddyBoss WordPress plugin – wasn't used as much. Given the widespread popularity – or at least familiarity – with Slack-like tools, we might experiment with a self-hosted Rocket.Chat instance instead.
We previously mentioned that we experimented with having background music playing at a low volume in the background. We prepared a different playlist every week to fit the theme and pace of activities. The playlists mostly used music from game and movie soundtracks, without any vocals. We think this approach works well: it makes silent group brainstorming less awkward and helps set the mood for the session.
However, we'd like to see real-time collaboration tools like Zoom improve their support for session soundtracks. While support for broadcasting music is spreading, most tools – including Zoom and Butter – don't support broadcasting music into breakout rooms, which breaks the session immersion. We're hoping future updates bring better support for music-enriched experiences.
Overall, we encountered surprisingly few technical issues on our journey. The main difficulty we had – and still have – is finding tools that fit our values and ethical standards while also offering a good user experience at a startup-friendly price point.
Coming up next: post-journey analysis and new journeys
Our pilot journey has come to an end, but our work at Tethix is just beginning. As already mentioned, we'll now take time to analyze the rich feedback we received and start planning upcoming journeys. We already have some ideas on how we could improve this experience, and we'll share our progress right here on our blog.